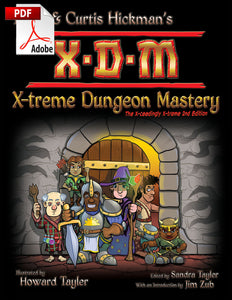 X-treme Dungeon Mastery 2nd Edition DIGITAL DOWNLOADS
XDM: X-treme Dungeon Mastery by Tracy and Curtis Hickman is oft hailed as The Cure for the Common Game. This newly revised second edition now contains:
Tips for understanding and meeting the needs of your players
Techniques for addressing conflict at the game table
Diagrams for story structure, session flow, and adventure design
Enriching and amusing footnotes
DIY rituals for joining the secret society of XDMs
Instructions for the incorporation of practical effects, including lasers, holograms, and actual prestidigitation
The entire XD20 2e Roleplaying System, a 16 page RPG that lets you play in any setting you can imagine.
32 more pages than the first edition, twice as much content as the first edition, and over 240 new illustrations by Howard Tayler
Roleplaying games have come a long way since the 1970s. Possessed of this second edition of XDM: X-treme Dungeon Mastery, you can become and X-treme Dungeon Master, and as an XDM you'll stand ready for the next fifty years of RPGs.
192 pages
This download includes PDFs, fully accessible PDFs, screen reader optimized PDF, ePub, and Mobi formats. All are contained in a zipped folder.