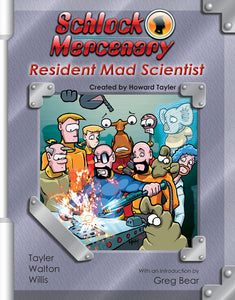 06 Resident Mad Scientist
Schlock Mercenary Book 6
"Uh-oh...I think we're lost."
Commander Kevyn Andreyasn invented the Teraport, so when something huge goes horribly wrong and starts interfering with every teraport in the galaxy, Kevyn, Schlock, and the rest of Tagon's Toughs are going to need powerful allies. Especially since they're on the run from deadly enemies... again.

Schlock Mercenary: Resident Mad Scientist is the sixth book in the epic comic space-opera Schlock Mercenary, but it is also a fine place to start reading. It features 144 glossy, full-color pages with brand new margin art, new notes, and eleven pages of bonus story, "Mad Scientist's Residence," by Dan Willis and Howard Tayler. Every strip in the book has been expertly recolored by Travis Walton, and the whole show is kicked off with a foreword by Greg Bear.
144 Pages
Softcover