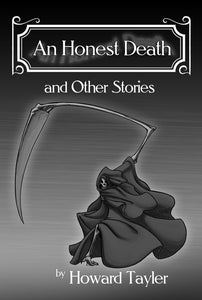 An Honest Death and Other Stories
A digital collection of horror short stories by Howard Tayler. The four stories in this book are "UI," first appearing Shared Nightmares, "An Honest Death," first appearing in Shadows Beneath, "Flight of the Runewright" from Space Eldritch, and "Fall of the Runewrought" from Space Eldritch II: The Haunted Stars. Taken together they add up to about 46,000+ words, which is about half the length of your average novel.
Download is a zip folder containing the stories in ePub, Mobi, and PDF formats.