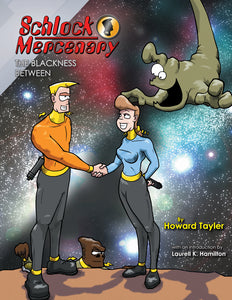 04 The Blackness Between
Schlock Mercenary Book 4
"Captain, I found some numbers that don't add up. They don't do this in a very scary way."

    Captain Tagon, Sergeant Schlock, and the rest of Tagon's band of mercenaries have finally caught up with their quarry. Now all they need to do is convince them to come along quietly. It may not matter, though, because something ancient, invisible, and very, very powerful has noticed these noisy interlopers.

This second edition of Schlock Mercenary: The Blackness Between includes footnotes and sketches not available on the web, plus 8 pages of exclusive bonus story explaining how Schlock got rich escaping from the circus. In this printing we fixed some typos, made the cover glossier, color-corrected a thing or two, and basically made what was already good a little bit better. In fact, it's so much better we had to call it a second edition rather than a second printing.
96 pages
Softcover